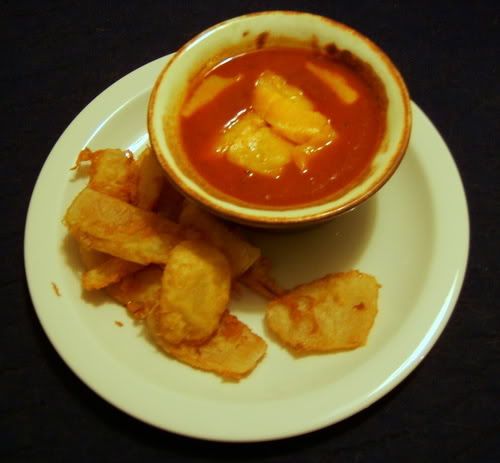 I just got back into town, and since the weather has been less than charming, I have not been to the store. So, tonight when I opened the fridge, I found: a piece of colby cheese, half an onion and two eggs.
Really, other than the standard condiments, these were the only food items in the fridge. I did have some roasted red pepper and tomato bisque in the pantry. The boxed soups from Campbells are much better than one would expect.
So, I decided to melt the cheese on top of the soup and make some onion rings.
I don't know about you, but whenever I eat onion rings, the onion invariably all pulls out of the breading on the first bite, leaving me with three quarters of a sad, onionless breading circle. So, I decided to make onion petals instead, and I also decided on that name for them.... makes sense I think, based on the famed onion blossom of casual American dining fame.
So, I set out to make some onion breading batter.
I didn't know what goes in that, exactly, not having made this before, but here is what I put in mine:
one egg
some flour
some water
a little salt
a little sugar
pinch baking powder
hmmmm.... some more flour
a little corn meal
opps, too thick, a little more water
This process continued until the volume and ingredient mix looked right. I use peanut oil as my frying oil of choice, and I put some in a saucepan to heat. You know your oil is ready when a chopstick dipped into the oil creates little bubbles all around it. If you don't have a chopstick, you should save one the next time you pick up Chinese.
I dipped a test onion in batter, and tossed it in. I discovered that the batter adheres to the onions better if you dredge them in flour, then in the batter. I also discovered I needed to add a little more sugar. This time I added powdered sugar instead of granulated.
They turned out quite well, and all together made a good meal for a cold rainy night.
I have some leftovers, which I think will be fine heated up in the toaster oven. But, now I'm out of soup. I guess that means tomorrow I'll have to go to the store.