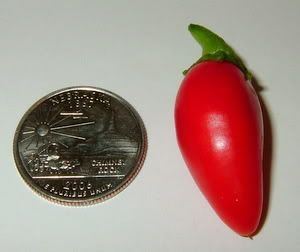 Here is a photo of my first
jalapeño
of the season, shown with a quarter, for scale. There are actually others on the plant that will be ripe soon, that are a more standard size.
I had three pots of peppers, this plant is one I started from seed I saved from a grocery store jalapeño. One of the other pots contained some mystery peppers from a friend. I think they were a couple of bell pepper plants, and an heirloom hot pepper of some kind, but they didn't flower.
I will probably chop this one up finely and use it in the chicken noodle soup I am making later.
Chicken Soup
One whole chicken
carrots
parsnip

onions
celery
fresh flat leaf parsley
one or two cloves garlic, minced

red jalapeño
salt and pepper to taste
any other veggies you want to throw in
wide egg noodles
Rinse chicken then place in stock pot and cover with water. Boil whole. Remove chicken from broth, and take all the meat off of the chicken. Chop meat into bite size pieces. Strain broth if necessary and chopped veggies (except parsley). Return to boil. When the veggies are about half done, add in noodles. When noodles are almost done, add the parsley and chicken. Season to taste. If I have it on hand, I sometimes add a little cream at this point as well.
I am trying to decide if it is worthwhile to go to the farmers market this morning. If I go, I can get a fresh chicken from Windy Meadows Farms, at the Texas Supernatural Meats booth. However, the chicken will be frozen, and if I go to Whole Foods, I can get a chicken that is not frozen. I do like to support local farms whenever possible, so maybe I will go to the market, and just make the soup later in the day. I can get onions as well, I am sure, but I am not sure that any of the local farms have carrots. The soil should be about right for them east of here, though.
I can't stand microwave dinners, and since I take my lunch to work, making a pot of soup or another one dish meal every week or so is crucial. My freezer is always stocked with Gladware bowls I can grab in the mornings. I really should start to label them, though. One day a few weeks ago, I popped something in the microwave at work that I thought was split pea soup, and it turned out to be pureed green chilies that I had frozen after making a batch of enchiladas.